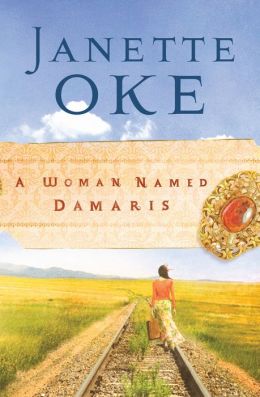 A Woman Named Damaris
Janette Oke
She was almost fifteen on the night she dared for the first time to think of what life might be like away from home. Pa had come home drunk and mean again; the trauma of the subsequent scene had been repeated as long as Damaris could remember. The idea that she no longer nees to tolerate this, that maybe she's old enough to manage on her own, is planted in her mind and begins to grow. She must plan her escape carefully, but she must get away from him.
When the opportunity comes, Damaris carries with her the strength of her mothers love. Two treasures hidden for years from her father-her grandmother's lacy golden brooch and her grandfather's lovely watch are Damaris' only legacy from her past. That and her name. Her mother said it came from the Bible and had a special meaning that she can't remember anymore. What difference might it make?
I started reading Mrs. Oke's books two years ago, when given the
Love Comes Softly
series from friends. I grew to love those stories and slowly began reading through the rest of her works.
A Woman Named Damaris
can't be claimed as one of her very best works. The problems didn't lie in a faulty story-line, or unbelievable characters, events, or run-on sentences. I felt like I didn't get to spend much time getting to know Damaris. I know that sounds extremely silly. but it seemed like there was so much time spent on the story and moving on to the next thing, that I didn't get a chance to really get to know this young lady very well; and it
is
rather important to get to know the main character. :) Time passed almost magically, weeks, months, even years passed in a sentence or two, and left you confused as to how old Damaris was now!
One particularly aggravating fault with most of Mrs. Oke's writings, and one which my mother points out ever time she reads something by her, is that she moves along with the story line way to fast. She doesn't dwell on details long enough. Of course, I wouldn't expect her to be another Scott, or Dickens, who were both a little overwhelming with their detailing's, but I think it would make a better book, if she spent a little more time explaining things before rushing off to the next scene.
The ending was highly expected, but it was extremely abrupt, and left you sitting there thinking, "wait, he didn't even have to woo her at all..." And then suddenly "they" are together and all is ending happily... It just wasn't enough of an ending.
All in all, however, I find Mrs. Oke's books interesting and lovely "in between" books for a breather between Classics. :) I can't honestly say that I would recommend this book particularly, but would suggest you look into Janette Oke's works, especially the Love Comes Softly series.